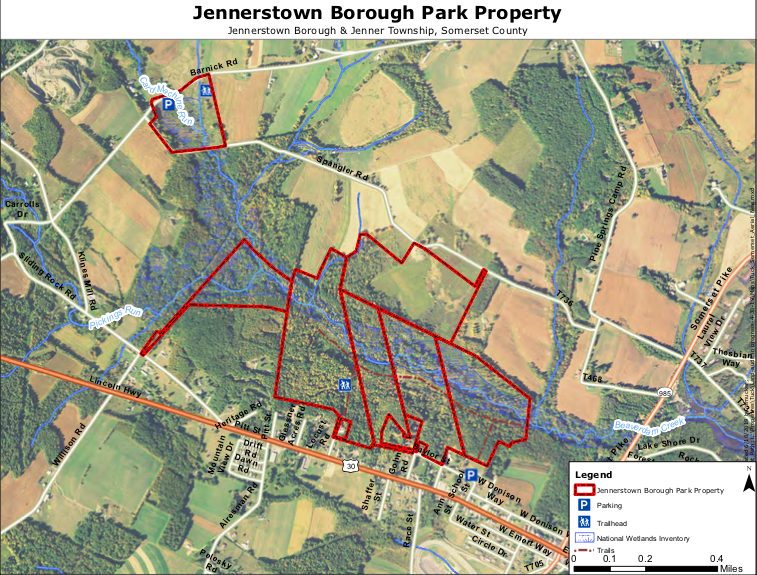 Jennerstown Borough Park
and Nature Reserve
Size: 222 acres

Location: 102 Saylor Street, PA 15531 Jennerstown Borough and Jenner Township Somerset County
Directions: The park and borough building are located near the intersection of Route 985 (Old Rt 219) and Route 30 (Lincoln Highway/Old Forbes Road) approximately 11 miles North of Somerset and 18 miles South of Johnstown on Route 985 with Pittsburgh about 58 miles to the West on Route 30. From Ligonier go east on Route 30 for 11 miles. Turn left on School Street and travel about one block till the road ends at Saylor Street. You will see the Borough building straight ahead and to the left. Turn left on Saylor Street and the gravel parking lot for the borough building, playground and park will be on your right. The current access into the prop- erty and primitive trails are off of Saylor Street approximately 0.2 miles west from the parking lot. Please use caution and watch for traffic along the road.
Notable features: Mature forest, Beaverdam Creek, Pickings Run and Card Machine Run, extensive floodplains, beaver dams, spring wildflowers, bird habitat, vernal pools, old fields and rustic trails.
Recreational activities: Hiking, wildlife watching, fishing, nature play, geocaching.